Kathy Boswell, reader and online reviewer, shares the joys of CR2001 in Atlanta below.
Linda Hurst, reader and online reviewer, shares her adventures at the All About Romance site. Read all about it at:
Author Barbara Sheridan tells all at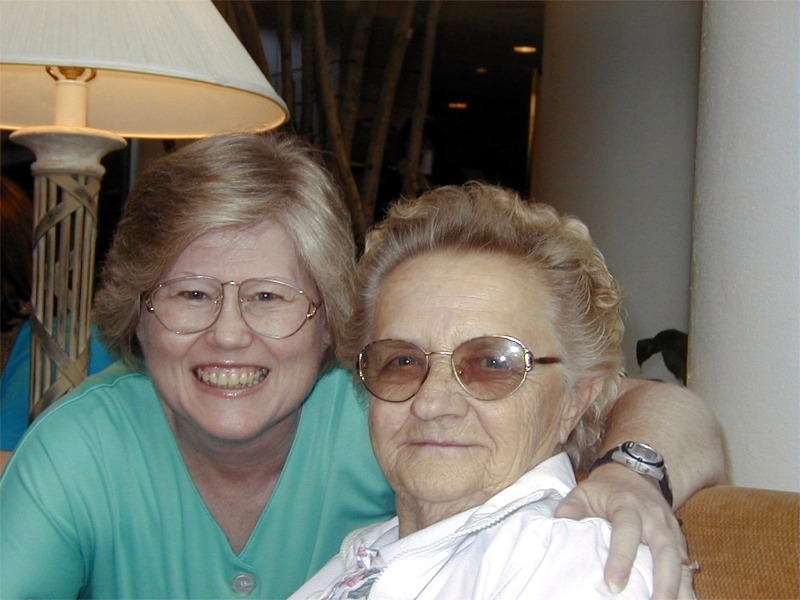 Kathy with reader Mary (Mensch) Hyatt
This was my first Celebrate Romance Conference and what a conference it was. I enjoyed every minute of it and am already saving in anticipation of next year! I do so hope I will be able to go!

It was like a dream come true to be able to meet several online friends whom I've been corresponding with for several years. Now I can put names and faces together and chatting online will be all the more special.

The reception on Friday night was fabulous. Mary Lynne Neilson was the best MOC. She kept everybody's attention focused while being entertaining.

Beverley Medos and Stephanie Burke each did a wonderful presentation geared towards funny and light. Beverly gave us a 'well balanced reader's diet' so now we'll never look at the food pyramid the same way again! Stephanie had us rolling in the aisles with laughter with her presentation on what *not* to say to a romance writer.

Saturday morning had us up and ready for the next round. Mary Jo Putney was the keynote speaker and she gave an inspiring speech that got us to thinking. Then thank you gift baskets were presented to Carol Carter and Margie B. Wilhelm for a job well done. Without these two tireless ladies, CR2001 would not have been as wonderful as it was. Next up Patricia Potter spoke to us about spreading the word about what people are missing if they don't romance. She said that her father was her biggest supporter and even the preacher reads her books. Stephanie Bond had us laughing again with her talk about how a book comes into being. Boy, we never knew what it takes from beginning to end to get these wonderful books that we read.

After these authors spoke, we had a wonderful buffet luncheon. The food was fabulous and there was plenty of it. We were able to socialize a bit with the people sitting at our table and it was extremely enjoyable.

After the luncheon, we broke up into three different groups. The first group I was in discussed whether romances are hot enough and what is hot enough. When does romance cross the line to erotica? Julie Elizabeth Leto and Stephanie Bond said they believe that a romance can be erotic but only if the reader thinks the heroine is in a safe place. If the reader thinks the heroine can't be safe generally the book won't sell. Julie also said that nothing in a book shows trust more than the act of making love. That's what most stories are built on. There was much discussion back and forth on how hot is too hot and it was interesting to note all the differing opinions. One woman even said the minute she gets a book, she goes straight to the love scenes and reads them FIRST. Then she goes and reads the rest of a book.

Then next group discussed the push/pull of wanting something different in a book. What is it that makes the reader want to read a certain type of book? What are people more likely to buy? One reader said she wanted a unique new spin on plots. She was tired of cookie-cutter type of romances. If you are in a romantic slump, what do you do to get out of it? Now that brought up some interesting points. One is that because romance has many different genres broken down, if a reader gets tired of historical, he/she can pick up a contemporary or a paranormal or a futuristic. There's just so many good choices out there. What readers get angry about though is because publishers think certain aspects of a story might not sell, they hide those aspects and some readers won't pick up that book because they don't know that it's actually a paranormal or a romantic suspense, etc. This is deceptive and angers some readers. Series books were also touched on. Most readers enjoy series books because they like that sense of community and enjoy visiting characters in several books.

The third group discussed was the likes and dislikes of series romances. The group of authors in this session wanted to know what the readers like the most and what they as series authors can do to make their books better and more enjoyable. This session was cut a bit short but we did discuss the like and dislikes of series romance. The biggest asset is that the series books reaffirm community and that if a hero and heroine from one book are in another book, the reader sees that the relationship is still working. It was also discussed that the authors should take advantage of the Internet and definitely send out newsletters.

After the three sessions, we got ready for the book trade and the Writerspace Tea. The paranormal authors also had a little impromptu session about paranormal romances. The book trade was so much fun and so very organized thanks to Carol Carter. I participated in this and got some really good books out of this enjoyable way to trade books with other avid book traders and readers.

The Writerspace Tea was just fabulous. Diana Palmer was the guest and she graciously signed books for readers. She signed one of her books for a co-worker for me and then I got her to sign one of her Susan Kyle books for me. Then in the corner the laptop was set up and authors got to chat
live with the readers who had to stay home.

On Sunday morning we had the book signing. I brought a whole bag full of books that I already had for authors to sign and I bought a bag full more to be signed. Oh my pile grew and grew! There was also the door prize drawing too. It was so loud that the ladies who were giving the door
prizes out couldn't even be heard over the dull roar that was going on in that room. Unfortunately I didn't win a door prize but it was probably a good thing since I had so many books already I could barely carry them!

As I said in the beginning, this was truly a fabulous conference and I certainly hope this will not be the last one I will attend. The authors I met, the online friends I met, the new friends I made, I could just go on and on. Kudos to all the people who made it possible. A special thank you to Margie B. Wilhelm and to Carol Carter.